Shipping
We only deliver within the European Union.
Shipment method
Our packages are delivered by DPD.
Shipping time
All products are in stock or in stock at our suppliers. Almost all orders are sent within one work day. If a product is not in stock, we will contact you by email or by phone. For parcels there is a tracking number, which you will usually receive in the afternoon of the ordered day.
Prices
All prices are shown exclusive of VAT. * From an order value of 99.95 &euro excl. VAT; the order is delivered without shipping costs. Under an order value of €99.95; we charge a flat shipping fee of €6.95.
Returning
You can return products, for example if they do not meet your expectations, within 30 days if the product is undamaged. You can then choose to either receive a replacement or the money that was paid.
Liability
After receiving your product, please check your order. If any components are missing or are damaged upon arrival, please send us an email with your order number, eventually including photos. The shipping times are an indication of PostNL and are therefore not 100% ensured.
Submit a return
We use the distance selling law. If the products do not meet your expectations you can - if undamaged - return them to us within 30 days. The amount for the returned products will be credited as soon as possible. We have made returning as simple as possible.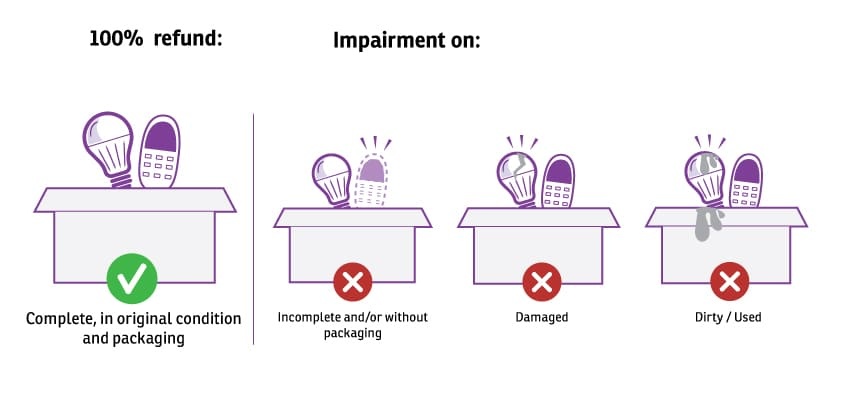 We kindly request you to sufficiently frank the package and return it to the address below.
LEDSTORES
Attn. Retour Department
Schurenbergweg 5A
1105 AP Amsterdam
The Netherlands
Return conditions:
Unfortunately, the guarantee does not cover any shipping costs. Exception: With a DOA (Defect On Arrival, you receive a defective item) you can return free of charge.
If you have made a purchase and you return it within 30 days, you must frank the shipment sufficiently.
Have you registered a return within 30 days? Then you have 14 days to return this order.
You will receive a return form within 24 hours (on working days) after registration of your return via the website.
Always return items in the original packaging with the parts that are in the same packaging. The foil on the LED panels must not be removed.
Customized cloud ceilings can not be returned.
Our LED lamps and luminaires are not suitable for outdoor use, unless otherwise indicated on the product page.